Public Volunteer Registration
Additional Volunteer Opportunities
Please log in to your account to check for potential additional volunteer opportunities.
This Activity Has Been Canceled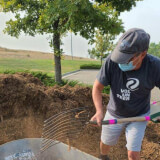 CANCELED: Earth Day Landscape Bed Mulching at Clark Centennial Park
- Clark Centennial Community Park
Saturday, 22 April 2023 @ 10:30 AM to 12:00 PM
Volunteer Opportunities
-

All Ages

Happy Earth Day! Join us for this morning mulching event Clark Centennial as part of the Sustainable Resilient Longmont Earth Day Celebration! Come for the stewardship, stay for the family-friendly scavenger hunts, arts and crafts, music, baby goats, food trucks, and MORE! The City of Longmont maintains hundreds of trees and ornamental planting beds throughout the city. Each year, the City applies mulch to these areas in order to keep the trees and plants healthy. Mulching correctly around trees and planting beds protects plants from soil moisture evaporation and allows the City to use less water to keep our trees and plant beds thriving, healthy, and beautiful. At this event volunteers will be helping spread mulch in landscape beds around Clark Centennial itself, Lashley Street Station, and the Youth Center at Clark Centennial. Sign up for the mulching event below, and view Earth Day Celebration details at: https://www.srlongmont.org/earth-day-2023.html

Links
Loading...